Bring a friend, and Get Your Fair Face On.
Outreach
The Piedmont Interstate Fair is continuing with the TOTAL Ministries food drive on Monday October 8th, and Wednesday the 10th will be senior citizens and education day. Sunday October 14th the fair will be hosting the Blood Connection for a community blood drive.
For details on these special deals, please visit our ticket prices page.
Music
The community stage will be rocking every night with great music from local artists. The bands will take the stage at 7:30 pm. Don't miss a single performance!
Check out the musical entertainment coming to the fair this year on our fair schedule page.
Fair rides are provided by Reithoffer Shows.
Bring your children to the fair! It's interesting, educational, and just plain fun.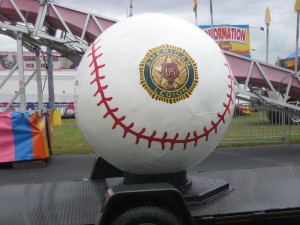 American Legion Post #28
Visit American Legion Post #28 in the agriculture building to view their beautiful display of wartime prints and get a history lesson at the same time! The Old American Legion Baseball, fully restored, will be on display at the fair!
Live Butterfly Exhibit
Once again the Piedmont Interstate Fair will present a live butterfly exhibit, fully enclosed so you may enter and view these beautiful creatures up close and personal.
Bring your children and grandchildren to view and interact with the butterflies in their habitat. This is truly a unique experience that all ages will enjoy and be talking about for years. Last year the exhibit drew more adults than children. This vendor also offers beautiful butterfly inspired jewelry and small keepsakes.
Wrestling
The wrestling program is going to be spectacular! Presented by the Lynx Wrestling Alliance. Come on down and see what all the excitement is about.
8:00 pm every night under the pavilion on the infield.
Agricultural Building
As always, our agricultural building will be filled with delicious baked goods, beautifully preserved vegetables and jams, and award winning fresh vegetables and fruits.
Visit the American Legion Post #28 to learn about this important organization and all the wonderful services they offer to our veterans. These veterans are a walking, talking history lesson. Don't miss the opportunity to speak with them and express your gratitude for their service to our country.
In addition, the Pumpkin Decorating contest entries will be on display. The Bowling Buddies contest will also be exhibited in this building along with the contest, Rolling Down the Highway, created by students in 1st through 8th grades. The competition and judging in the agriculture building will be under the direction of Mary Jane Michels.
The agriculture building will also feature a beekeeper with a live hive, a display by Lemmons Farms of Gaffney, and beautiful handmade bird houses constructed from all recyclable materials by Birdhouses 56. As a special attraction, the Piedmont Interstate Fair is so pleased to announce that the Spartanburg County Library will have a historic display.
Community Market Place
Don't miss the community market place with all of the interesting and educational booths. Check out all the vendors, visit the City and County Police and Fire booths for many useful and educational materials, or just enter all the great drawings being offered by our vendors.
Stop by the Emmanual Baptist Church booth for all kinds of treats from free popcorn and drinks to homemade fried apple pies. These wonderful people do a great job of making everyone feel welcome and appreciated.
House of Flowers
The house of flowers debuts a miniature county fair display surrounded by a multitude of greenery, hanging baskets and flowers presented by your green-thumbed friends and neighbors along with local florists and nurseries. This new format in no way interferes with anyone displaying their horticulture specimens or floral arrangements. There will be plenty of room for amateurs throughout the fair.
This year's art show will be huge (as always). Come and see the talent of our local school children in addition to professional artists' entries. Hobbies and crafts entries will be under the leadership of Mrs. Pat A. Wren.
Please check out the 2018 premium booklet, pick one of the many categories and enter your best effort. Do so, and you could win ribbons and money! Hobbies and crafts offer hundreds of categories to accommodate every person's favorite pastime.
The House of Flowers will also display the 2018 Let's Have A Party contest sponsored by the Piedmont Interstate Fair. This contest will present twenty-five (25) dressed tables in formal, casual or holiday themed "tablescapes". Please come by and vote for your personal choice for the People's Choice Award for the tablescapes.
Please view the contest page for full details on all of our contests. Join in, have fun, win ribbons and money, and best of all bragging rights for a whole year!